Today, on June 6, 2014, there are people all across the world who are stopping to reflect upon D-Day and the assault on Normandy. Seventy years ago today, a joint British, American, and Canadian force worked to push back the German forces that were posted on the beaches of Normandy, in northwestern France. Their success that day is now remembered as a significant turning point in the War: the opening of a western front from which point the Allies could force the Germans back to their own borders. It's an event that's so well known that it has been immortalized in song and film several times ever since.
John Wayne in the 1962 film The Longest Day
That's a rather older example, and not all that familiar to those in my generation, I daresay. But what about this one?
Screenshot of the Normandy landing from Saving Private Ryan.
The point is that D-Day has become associated with two things, primarily: Allied determination, and extreme bloodshed. Doubtless it was a bloody, hard-fought battle: just the immense scale of the operation should give that away. Five beaches were attacked by the Allies on June 6, 1944. From west to east, these beaches were code-named Utah, Omaha, Gold, Juno, and Sword.
Hollywood, being what it is, has tended to focus on the two beaches that were tasked to the American forces: Utah and Omaha (it is the latter that is shown in the opening scenes of
Saving Private Ryan
, for instance). The British were focused on Gold and Sword. That left Juno to the Canadians - and it has been a great source of national pride ever since.
Canada was heavily involved in the fighting during both WWI and WWII. As a nation and military force, Canada does not hold the same level of prestige as Britain, the United States, France, Germany, etc. In both cases, it is because the Canadian efforts have been seen as joint efforts with others. In WWI, Canada was a dominion of the British Empire, and did not even hold sufficient right to declare war on its own: once Britain was in, Canada was in, no ifs, ands, or buts about it. As for WWII, although Canada had attained enough international clout to issue its own declaration of war and handle its own international affairs, it was still popularly conceived as "British".
Lance-Bombardier Walter Cooper, 14th Field Regiment, Royal Canadian Artillery (R.C.A.), aboard a Landing Ship Tank counting out 105mm. shells which will be fired on D-Day. Southampton, England, 4 June 1944. (Photograph by Lieut. Frank L. Dubervill)
What this means is that like the other Commonwealth nations (ex. Australia and New Zealand), Canadians have taken particular responsibility in remembering their own achievements from WWI and WWII. For Canadians, then, we then sought out instances where our soldiers have gone above and beyond the call of duty to create something significant not just to our own history, but to the wars' progression overall. In WWI, that lot fell to Vimy Ridge (April 9-12, 2917); and in WWII, although the credit could be more diversely distributed, most of the emphasis has fallen upon Juno Beach.
Infantrymen of The Highland Light Infantry of Canada aboard LCI(L) 306 of the 2nd Canadian (262nd RN) Flotilla en route to France on D-Day, 6 June 1944. (Photograph by Lieut. Gilbert Alexander Milne)
Why Juno Beach? Because there was, in fact, a Canadian distinction involved. It's something that many Canadian schoolchildren know, and it's reiterated year after year on Remembrance Day (November 11) and also on the anniversary of D-Day itself: the Canadian troops were the first to reach their assigned goal out of all the Allied divisions involved, and - because of that - were able to penetrate further into German-occupied France than any of the others on that day.
Now, I'm not a military historian. I can't tell you the hows of Canada's victory at Juno Beach, or why the Canadians were the first to achieve success. There are plenty of books, websites, etc. addressing that issue, I reckon. All I want to do is give the Canadian troops that took part in D-Day their proper recognition. Hollywood might give us the American story, but D-Day was a joint effort - without each force involved doing its part, the offensive as a whole may not have succeeded.
And I think, for Canada, seventy years later, that's what matters most.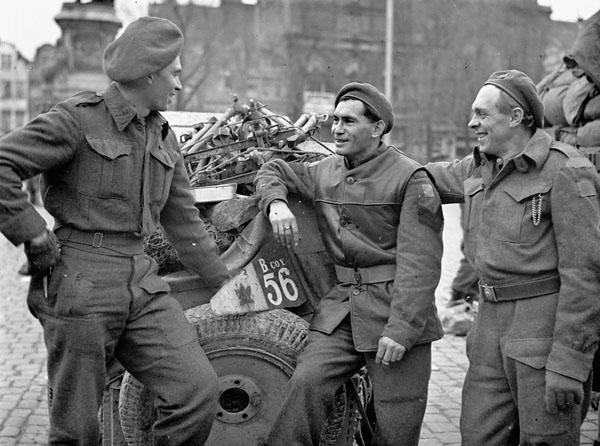 Three "D-Day originals" of the Regina Rifle Regiment who landed in France on 6 June 1944. Ghent, Belgium, 8 November 1944. (Photograph by Lieut. Donald I. Grant)
Private C.L. Jewell of The North Nova Scotia Highlanders, who wears a "D-Day" beard, Normandy, France, 22 June 1944. (Photograph by Lieut. Ken Bell)
Rifleman R.A. Marshall, Queen's Own Rifles of Canada, pointing out a hole in his helmet made by a German sniper's bullet on D-Day. Bretteville-Orgueilleuse, France, 20 June 1944. (Photograph by Lieut. Frank L. Dubervill)
Oh! One more thing. There is, in fact, a film out there focused on the Canadians at Juno Beach:
Storming Juno
. Based directly off the experiences of three actual soldiers who took part, it does a great job of making the story relatable while keeping the history accurate. If you haven't seen it, I highly recommend it. Here's the trailer, just for starters.
Image Credits
Screenshot from
The Longest Day
(c) 20th Century Fox
Screenshot from
Saving Private Ryan
(c) Amblin Entertainment
Map of Normandy Beaches (c) HMSO (Her Majesty's Stationary Office) and the National Archives (UK)
All photos of Canadian forces in 1944 (c) Library and Archives Canada